A one-act performance based on Nora Ikstena's novel
(translated from Latvian by Laura Laurusaite)
…
Adaptated and directed by BIRUTE MAR
Choreographer and assistant director – SIGITA MIKALAUSKAITE
Scenographer – INDRE PACESAITE
Music composed and selected by ANTANAS KUCINSKAS
Video projections by KAROLIS BRATKAUSKAS
Lighting designer – AUDRIUS JANKAUSKAS
…
ROLES PLAYED BY:
Mother, Daughter – Birute Mar
Singer – Virginija Skirmante
…
Premiere – 28.09.2021 in Vilnius, Meno fortas
Duration – 1 h 15 min.
The creation of the performance was partially funded by the Lithuanian Council for Culture
The play "Soviet Milk" is based on the novel by the well-known contemporary Latvian writer Nora Ikstena. It is the story of a mother and daughter in Soviet Latvia during the period of 1969-1989 and the history of the country's awakening from the Soviet stagnation to independence. Everything is very recognisable: the Soviet school, the suffocating ruthlessness of the system, the sense of impending freedom… When looking back to the not-so-distant past, it raises fundamental questions about the state and choices of our contemporary society.
Birute Mar plays two roles in the play – mother and daughter. The mother is a doctor, the daughter of an exile, who is deprived of everything by the Soviet authorities: not only her professional future and identity, but also the joy and meaning of life. Her daughter is the opposite of her mother, naturally full of life. This is a story about the emotional wall which a mother builds against her daughter – for love and protection. It is about resentment as salvation; about an environment where everything turns into poison – even breast milk.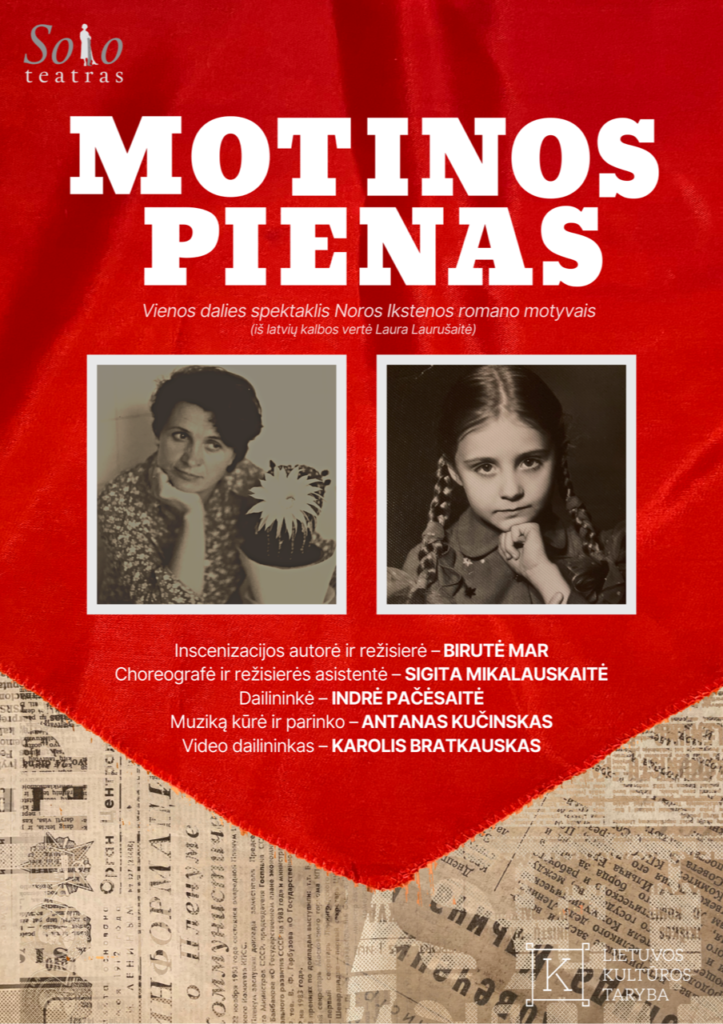 ….
PRESS, REVIEWS
Laima Vince – "A play that engages the full palette of the human soul" (www.laimavince.lt, 2021.09.30)
…
AWARDS
GRAND PRIX at International Theatre Festival "Druskininkai Summer Theatre Crossroad", Lithuania (2022)
FESTIVALS
D. Tamuleviciute's Professional Theatre Festival in Varena, Lithuania (2021)
Kupiskis Professional Theatre Festival "Art Do", Lithuania (2021)
International Festival of Mono-spectacles "Atspindys", Visaginas, Lithuania (2021)
International Chamber Theatre Festival "Mizanscena", Seduva, Lithuania (2022)
International Theatre Festival "Druskininkai Summer Theatre Crossroad" (2022)
…
AUDIENCE FEEDBACK
"Wonderful, nostalgic, shocking and unforgettable performance… I rarely wipe away a tear during a performance… I applauded Birute Mar when she stood up" (Daiva Braukienė, Facebook, 2021.12)
"The book is interesting and the performance is excellent. If you haven't seen it – don't miss the chance." (Edita Meskoniene, Facebook, 2021.09)
"Simply wonderful." (Agne Zukovskyte, Facebook, 2021.09)
"The performance was overwhelming. I enjoyed it very much" (Linda Razgaitiene, Facebook, 2021.09)
"After the premiere of "Soviet Milk", there are a lot of emotions and only one word – catharsis. The creative team even greeted the audience with a gastropoetic interlude in the corridor, accompanied by Brezhnev's wails. Birute Mar's ability to reincarnate successively into different characters is simply phenomenal! I won't elaborate, I can only say that it was fascinating, and I even saw my own polished text of the novel in a new light. I recommend everyone to see and, most importantly, to experience!" (Laura Laurusaite, translator of the novel "Soviet Milk" into Lithuanian, Facebook 2021.09)
"Thank you for a REAL performance, where you can feel REAL life" (Astrida Petraityte, Facebook, 2021.09)
"Wonderful and very sensitive. Definitely worth seeing" (Rasa Jarusevice, Facebook, 2022.02)